Why Vidipack – Check out the stats
Do you ever get the feeling you are just not getting through? Modern business communication is a maze littered with gatekeepers and dead ends. Your aim is to get your product in front of the right person, yet you seem to be blocked at every stage! What used to work a few years ago seems not to be an option anymore. How can Vidipacks help? The intriguing nature of Vidipacks can often get through when standard forms of marketing are blocked and once opened the directness of a video presentation can be too compelling to miss. Don't just take our word for it, in recent research Vidipacks massively outperformed traditional methods.
Traditional Direct Mail combined with follow-up call
Vidipack combined with follow-up call
Why not call us to find out more
01704 504352
>> Talk to us about our experience around the specific Video Brochure Account based management approach
>> Talk to us about adding value to your productions
>> Our products are independently tested to ensure safety, quality and UK / EU legal compliance
STANDARD VIDIPACKS_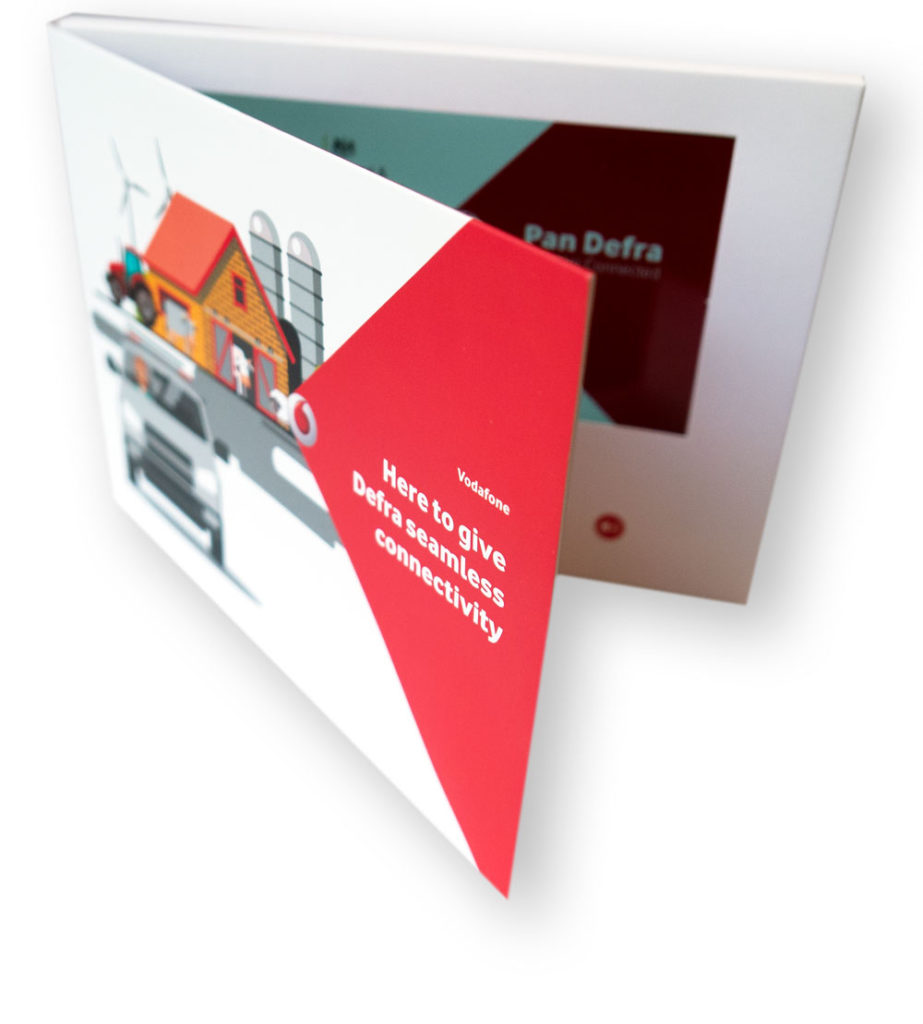 Vidipack™ is our brand name for our premium quality video brochures, but we also build Video into lots of other print products.
Vidipacks™ bring print to life. If you are lucky enough for your traditional direct mail to be even looked at, the recipient needs be engaged enough by the headline or images to want to read on; and how much can you actually get over with traditional printed methods?. According to Forrester, "Video is worth 1.8 million words", so what better way to bring those 1.8M words to life than a Vidipack landing on your key target's desk.
What sizes can we have?
You can have whatever size you want: business card / A6 / A5 / A4 and bespoke sizes inbetween. In a nutshell, if we can print it on a professional press, we can make it into a Vidipack.
But isn't this an expensive approach?
That really depends on what you are selling and what you are comparing it too. If you really need to get in front of that key decision maker and a win could be significant for you then Vidipacks offer great value. With Vidipacks, you can not only personalise the print but you can also personalise the video if required.
Vidipack™  quite simply captivate the recipient, if you have ever received a Vidipack you will know that you not only watched and engaged with the video, but you also showed it to other members of your team. When was the last time you did that with a traditional printed brochure / email or phone call approach you have received?
Vidipack™ not only offer Video brochure solutions. We have also created engaging POS and exhibition solutions using our technology. If you have an idea why not contact us to find out how we can help.
Who uses them and why?
Businesses use them when they really need to make an impression. The recipients of theses product are much more likely engage simply because of the 'instant video engagement' of the product. Research has proved that recipients tend to remember not only the content but the company sending a Vidipack more than any other type of mailing. Also with the introduction of ever more stringent spam filters and common use of voicemail, it is more difficult than ever to get to your key prospects.
Sales & Promotions
Product Launches
Pitches, Bids & Tenders
Training
Point of Sale
PR & Press
Financial Reports and Stakeholder Briefings
Business Development
Vidibox
Vidibox is great new way of adding video to any product promotion, fusing all the engagement potential of our standard Vidipacks with the ability to include your product and other materials as required.
We can make the boxes to whatever size you need, with custom inserts to hold your product in place.
The Vidibox range is not limited to standard boxes, it is only limited by what is technically possible from a print and cardboard engineering perspective; so unleash your creativity.
Talk to us and we can discuss the potential.
Why not call us to find out more
01704 504352